Those who think they have no time for exercise will sooner or later have to find time for illness.
Time is no excuse. Everyone out there has that same 24 hours. You have to do things accordingly. Every minute is important. Sometimes you feel how time flies, you need some more time. I will tell you, try today's' workout and you will never say how a minute goes by really fast. So no if, no buts, no excuses. Just do it.
Elbow Plank
Start with lying on the floor face down. Push off the floor and rest your weight on your forearms. Only your elbows and toes are in contact with the floor. Your elbows should form a 90 degrees angle. Your elbows should be directly beneath your shoulders. Hold the position as long as you can. Your neck, spine, hips, and heels should form a straight line. Keep those abs contracted. Don't let your back arch. Remember not to drop or stick up those hips. The whole body should be in a straight line. Keep your shoulders firm. See that your neck does not bow down to the shoulders up.
Start with 3 sets of 30 seconds. Gradually, you can work your way up to 1 minute or more as you get stronger.
Plank is a full body workout. Along with abs it also tones your arms, legs. Strengthen shoulders and thighs. Remember to tighten your core while performing this.
When can you do ?? Best time for any workout is in the morning. You can also do in evening after at least 4 hours of a heavy meal. Never perform any workout on a full stomach.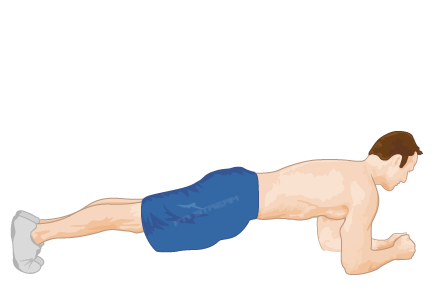 The Body part of the day – E
Eyes
Eyes. You all know the importance of eyes. But what all you do to keep your eyes healthy? Nothing. From the moment you wake up till you sleep, have you ever thought what all your eyes go through? Mobile screen right from the bed and to the bed in the night. Then television while breakfast, lunch, and dinner. Dirt and pollution on the way and back to the office. Computer screen the whole day. So are you not going to do for them who do this much for your the whole day?
After you brush your teeth in the morning, fill water in mouth. Bend the face a little bit down and splash cold water on your eyes. Open eyes. Yes see upwards or try to see your eyebrows or the tap or wall above your head. Don't' forget to fill your mouth with water, it will absorb the heat of your eyes. Before going to sleep do some eye exercises. What else :
Give them some more off-screen time. (other than sleeping)
Don't change channels while advertisement, instead mute the TV and see around maybe curtains, walls, out the window.
Cut down screen time.
Say no to mobiles in a bathroom (You know what I mean :P)
Tip of the day
Do not wait for the good time to start working out. Do not wait for Monday or the 1st day of a month to start. Start today right now. You have to just be strong and start. Then there is no looking back. Don't wait, Start.
P.S –
These are just single workouts. Warm up and cool down are not included in this. Know that your body has limits and you should respect it. Do only as much as your body allows you. Little pain is absolutely normal as the muscles stretch, but if you feel more pain then you are doing something wrong. Stop doing it and consult a doctor if necessary. I am not a personal trainer, this is meant to be the inspiration for you as a way to break workout boredom.
My previous posts of the #AToZChallenge –
A – Alternate Jackknife
B – Bicycle Crunches